SPECTRAL DNC-N Nanoxidil 5% 3 mois traitement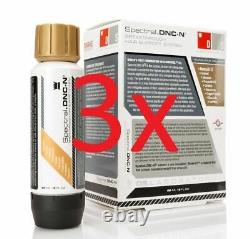 3 X SPECTRAL DNC-N Nanoxidil 5% 1 mois traitement. Le premier traitement au monde au Nanoxidil® Une innovation exclusive qui utilise du Nanoxidil 5 % Matériaux de très haute qualité et de niveau recherche Technologie d'encapsulation la plus récente Conçu pour surpasser l'efficacité du traitement au minoxidil Spectral.
DNC-N est la dernière avancée des Laboratoires DS conçue pour dépasser les limites de la thérapie au minoxidil. Le premier traitement à utiliser du Nanoxidil, ce composé est une matrice complexe qui ouvre les canaux ioniques dans les cellules et exerce de multiples mécanismes d'action pour répondre à plus d'une douzaine déclencheurs qui conduisent à la chute des cheveux. Une véritable innovation, le Nanoxidil augmente considérablement la densité des cheveux et favorise la santé globale du cuir chevelu.
Ce composé est combiné dans la formule complète Spectral DNC-N avec plusieurs agents auxiliaires qui mettent en uvre une thérapie multilatérale exclusive. La molécule responsable de l'effet d'ouverture des canaux ioniques a un poids moléculaire plus faible que le minoxidil et possède plusieurs avantages importants par rapport au minoxidil, un composé désormais dépassé. Ce produit dispose également de la dernière technologie d'encapsulation au sein de nanosomes pour permettre une absorption plus ciblée à la base du follicule pileux. 3 X SPECTRAL DNC-N Nanoxidil 5%. Ununica innovazione caratterizzata da 5% Nanoxidil® Materiali di primissima qualità Tecnica di incapsulamento più innovativa Prodotto per superare lefficacia della terapia di minoxidil Spectral. DNC-N è lultimo arrivato da DS Laboratories prodotto per superare le limitazioni della terapia di minoxidil. Il primo trattamento che utilizza Nanoxidil®, questo insieme apre canali di ioni all'interno delle cellule ed esercita molteplici meccanismi di azione per affrontare le maggiori cause che portano alla caduta dei capelli. Una vera e propria innovazione, Nanoxidil® aumenta drammaticamente la densità dei capelli e promuove la salute generale del cuoio capelluto. Questo è abbinato ad una formula completa in Spectral DNC-N con laiuto di numerosi agenti capaci di applicare ununica terapia multi laterale. La molecola responsabile delleffetto del canale ionico ha un peso molecolare inferiore rispetto al minoxidil e quando paragonato a questultimo, possiede molte caratteristiche importanti vantaggiose. Questo prodotto è inoltre caratterizzato dalla recente tecnologia di incapsulamento di nanosomi per permettere un assorbimento più mirato della base del follicolo pilifero. ACQUA DEIONIZZATA, PROTEINA LUPINO IDROLIZZATO, ESTRATTO DI RADICE DI PANAX GINSENG, NANOXIDIL (5%), ADENOSINA, BUTYLENE GLYCOL, AMINEXIL, ARGININA, FOSFOLIPIDI (NANOSOMI), ACETIL TIROSINA, PPG-26-BUTETH-26, ESTRATTO DI RADICE DI ARCTIUM MAJUS, PROTEINA DI SOIA IDROLIZZATA, PROCIANIDINA B2, POLYQUATERNIUM-11, PEG-40 OLIO DI RICINO IDROGENATO, PEG 12 DIMETHICONE, CLORURO DI CETROMONIO, PANTOTENATO DI CALCIO, APIGENINA, ETANOLO, ISOLAURETH-6, GLUCONATO DI ZINCO, TAURINA, PREZATIDE ACETATO DI RAME (RAME-PEPTIDE), NIACINAMIDE, ACIDO OLEANOLICO, ORNITINA HCL, CITRULLINA, RETINOL, GLUCOSAMINA HCL, PROPYLENE GLYCOL, PEG-8 DIMETHICONE, T-FLAVANONE, BIOTINOYL TRIPEPTIDE, BIOTINA, DIMETHICONOL, SILICONE QUATERNIUM-2 PANTHENOL SUCCINATECONE QUATERNIUM-2 PANTHENOL SUCCINATE. Applicare 10 spray due volte al giorno direttamente sullarea della perdita o diradamento dei capelli. Massaggiare il liquido uniformemente sullintera zona e lavare le mani con acqua e sapone subito dopo luso. DNC-N® deve essere applicato su capelli lavati o meno. 3 x SPECTRAL DNC-N Nanoxidil 5% 1 month treatment.
The World's First Treatment with Nanoxidil®. A unique innovation featuring 5% Nanoxidil. Designed to surpass the efficacy of minoxidil therapy.
DNC-N is the latest advance from DS Laboratories designed to surpass the limitations of minoxidil therapy. The first treatment to utilize Nanoxidil, this compound is a complex matrix that opens ions channels within cells and exerts multiple mechanisms of action to address over a dozen triggers that lead to hair fall out. A true innovation, Nanoxidildramatically increases hair density and promotes the overall health of the scalp. This is combined in a comprehensive formulation in Spectral DNC-N with multiple auxiliary agents implementing a unique multi-lateral therapy. The molecule responsible for the ion channel opening effect has a lower molecular weight than minoxidil and features several important advantages over the now outdated minoxidil compound.
This product also features the latest nanosome encapsulation technology to enable more targeted absorption to the base of the hair follicle. 3 X SPECTRAL DNC-N Nanoxidil 5% 1 mes tratamiento. DS Laboratorios ha creado Spectral DNC-N , un tratamiento cuyo principal activo es el nanoxil al 5%, un componente nuevo utilizado como alternativa al uso de minoxidil.
Primera formulación del mundo con Nanoxil 5%. Spectral DNC-N de 60 ml es un producto que llega al mercado tras años de investigación de vanguardia, para establecer la eficacia más alta posible de una aplicación tópica en la muy compleja biología del cuero cabelludo. El objetivo de esta investigación implica la combinación de moléculas beneficiosos de una manera que potencia sus propiedades deseables y reduce o anula algunos de sus efectos indeseables.
También se ha prestado especial atención a las características de absorción, ya que algunos compuestos sólo tienen un efecto beneficioso en ciertos lugares en el cuero cabelludo. Spectral DNC-N de 60 ml cuenta con una nueva innovación, Nanoxil, un material que tiene un peso molecular menor que el minoxidil. Spectral DNC-N mantiene los folículos más delicados en un estado optimo para que puedan producir cabello en cualquier estapa de la vida. Es uno de los primeros tratamientos que incorpora como principal activo el uso de Nanoxil al 5%.
Este tipo de tratamiento anti caida funciona muy bien en muchos pacientes que no han respondido satisfactoriamente a tratamientos compuestos a base de minox, o no han tolerado sus efectos secundarios. Podemos decir que Spectral DNC-N ha sido creado para combatir el adelgazamiento del cabello y la caida del mismo, en aquellas personas que no toleran o no le son efectivos los tratamientos cuyo principal activo el es. Spectral DNC-N no tiene efectos secundarios conocidos. Nanoxidil se combina con Aminexil ®, adenosina, procianidina B-2, citrulina, péptidos de cobre, T-flavanona, y agentes de cabello de apoyo adicionales. El envase de este tratamiento es de 60 ml.
DNC-N Nanoxidil 1 month supply. Die weltweit erste Behandlung mit dem Wirkstoff Nanoxidil. Eine einzigartige Innovation mit 5% Nanoxidil. Entwickelt, um die Wirksamkeit der Behandlung mit Minoxidil zu übertreffen.
Nanoxidil erhöht die Haardichte und fördert die allgemeine Gesundheit der Kopfhaut. Spektrale DNC-N ist eine Lotion mit einer Konzentration von 5% Nanoxidil, mit mehreren Hilfsstoffen.
Das Molekül, das verantwortlich ist für die Öffnung von Ionenkanälen hat ein geringeres Molekulargewicht als Minoxidil, und weist ein paar wichtige Vorteile gegenüber der überholten Minoxidil-Verbindung auf. Weitere Stoffe, die das Haarwachstum stimulieren sind Adenosin Aminexil, Procyanide B2 und Kupfer Peptide. Das Produkt verfügt über die neueste Nanosome Verkapselungstechnologie, um eine noch gezieltere Absorption von Nanoxidil und weiteren Substanzen durch die Haut und die Haarfollikel zu erreichen.
Spectral DNC-N wurde klinisch auf die Sicherheit und Wirksamkeit bei Männern und Frauen getestet. Nach 2 Monaten gaben 95 % der Teilnehmer an, dass ihr Haarausfall spürbar zurückgegangen war und 75 % stellten fest, dass ihr Haar schneller nachwuchs.
Es wurden keine Nebenwirkungen beobachtet. Vollentsalztem Wasser, hydrolysiert lupineproteïne, Panax Ginseng-Wurzel-Extrakt, Nanoxidil (5%), Adenosin, Butylenglykol, Aminexil Arginin, Phospholipiden (nanosomen), Acetyltyrosin, Propylen, Arctium majus Wurzel, hydrolysiertes Sojaprotein, Procyanidin B2, Polyquaternium-11, Rizinusöl , Polydimethylsiloxan, cetrimoniumchloride, Pantothensäure, Apigenin, Ethanol, Isolaureth 6, Zinkgluconat, Taurin, Kupferacetat (Cu-Peptid), Niacinamid, Oleanolsäure, Ornithin HCl, ritrulline Retinol, Glucosamin, Propylenglykol, T-Flavanon biotinolyl Tripeptid, Biotin, di-methyconol, Silikon quarternium panthotheen.
The item "SPECTRAL DNC-N Nanoxidil 5% 3 mois traitement" is in sale since Thursday, July 15, 2021. This item is in the category "Beauté, bien-être, parfums\Soins cheveux et coiffure\Produits coiffants et modelants". The seller is "patchintragen" and is located in ontinyent, valencia. This item can be shipped worldwide.
Adapté à: Cheveux
Formulation: Gel
Type: traitement
Effet coiffant: chute
SPECTRAL DNC-N Nanoxidil 5%,: LABORATORIES DS,CALVITIE,ANTICHUTE,CHEVEUX
traitement,hair loss,alopecia,: treatment,hair,minoxidil
Sous-type: lotion
Usage: Anti-chute cheveux
Marque: spectral