NEW - PreHeels Clear Blister Prevention Spray (Mini Size) - BEST OF BEAUTY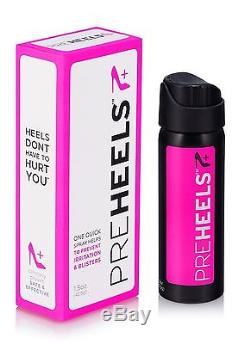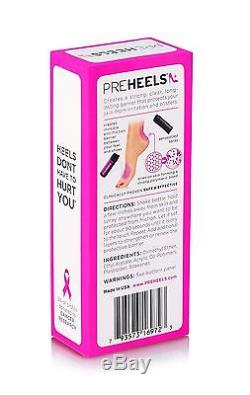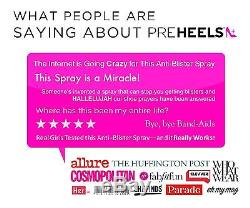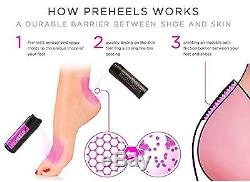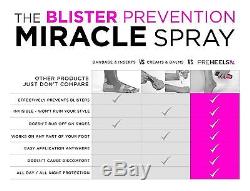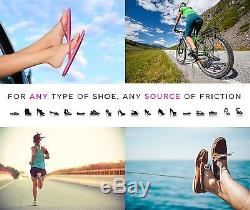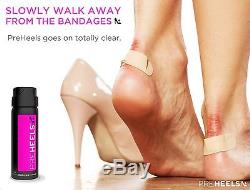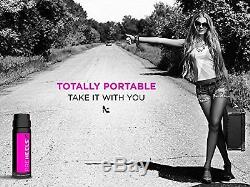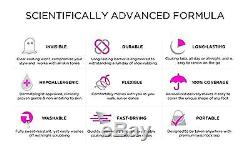 NEW -- PreHeels Clear Blister Prevention Spray (Mini Size) -- BEST OF BEAUTY 2017. INVISIBLE & DURABLE - Balms don't work. PreHeels creates a strong, totally clear barrier on your skin that blocks friction and prevent blisters & irritation from shoes, all day or all night. PERFECT COVERAGE - proprietary formula dries quickly into a barrier that conforms perfectly to the unique shape of your foot, providing optimal coverage anywhere you need it, and staying in place (unlike messy balms and creams that rub off on your shoes, or unsightly bandages which quickly fall off). DERMATOLOGIST RECOMMENDED - hypoallergenic, gentle on skin and clinically proven safe & effective.
Fully breathable and sweat resistant, yet can be washed off easily with light soap and warm water. NOT JUST FOR HEELS PreHeels is designed to for both women & men to prevent any type of shoes friction, or any other source of skin chafing. PREHEELS GIVES BACK - 5% of all PreHeels profits are donated to the Cancer Research Institute to support cutting-edge research into new immunotherapy treatments for cancer. Size:1.5oz - Mini Shoe Blisters, Solved. PreHeels is an advanced blister and skin-chafing prevention spray designed to protect your skin from friction.
The product of years of scientific research, in less than 90 seconds the formula creates a totally clear barrier that protects your feet from blisters for a full 6 hours. Unlike bandages and inserts, PreHeels is totally invisible, so it won't compromise your style or create discomfort, and since it forms a completely dry coating, it won't rub off on your shoes like greasy balms or gels often do.
It is hypoallergenic, dermatologist-recommended, clinically proven safe and effective, and washes off easily with soap and water. PreHeels is designed for use with any type of shoe-- high heels, flats, sneakers, loafers, flip flops or running shoesor as an anti-chafe protectant for use under shorts, bra straps or other clothes that chafe during athletic activity. Finally heels dont have to hurt you! Invisible Armor for Your Feet. Invisible Protection: PreHeels forms a strong, invisible, breathable and sweat-proof barrier that sits between your skin and your shoes, blocking rubbing and preventing blisters.
Nano Shield Technology: Liquid microparticles join together to form a strong polymeric bond that has been engineered to take the full beating that your shoes dish out. Long-lasting and Ultra Durable: One quick application of PreHeels provides continuous protection for 6 hours. Extend it further with extra layers or a quick re- application.
Tailor-made for You: The shape of both your feet and shoes are unique. PreHeels custom- molded barrier conforms to the exact curves of your feet for 100% coverage. Won't Fall Off or Hurt Your Style: Unlike bandages, PreHeels stays in place and is totally invisible so it won't compromise from your look.
Covers All Your Hotspots: Once applied, PreHeels can comfortably and continuously block rubbing over common hotspots like over the toes and behind the heel. The Most Versatile Blister Prevention Solution For Any Type of Shoe: PreHeels blocks friction from any type of shoe that rubs you the wrong way. Try it with flats, sandals, running shoes, or even under bra straps.
PreHeels is a versatile skin-friction solution, so it is a perfect companion for running, biking, rowing or any other activity may chafe your skin. For New Shoes: When shoes need to be broken in, you shouldn't have to have broken skin! Fall in love all over again with that one pair you otherwise just can't wear.
For On-the-Go: PreHeels 1.5oz size is small enough to be taken with you so you can apply or reapply any time you feel the beginning of shoe-burn. Want to explore that beautiful ancient city entirely by foot, and entirely in style?
PreHeels let's your walk around town without paying for it later in blisters. You may return items in its original condition within 30 days. The item "NEW - PreHeels Clear Blister Prevention Spray (Mini Size) - BEST OF BEAUTY" is in sale since Friday, March 31, 2017. This item is in the category "Health & Beauty\Hair Care & Styling\Styling Products".
The seller is "shop*zing" and is located in US. This item can be shipped to United States.
MPN: NA
Brand: PreHeels
UPC: 793573169723
Size: 1.5oz - Mini