SALVATORE PREMIUM HAARSTRAIGHTENER 2L (Shampoo und Keratin)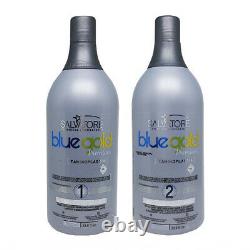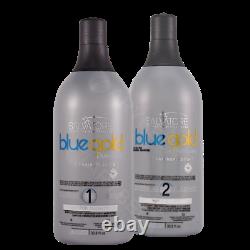 "Nutritive Blend", compuesto por extracto de mirra, extracto de propóleo, cera de abejas (agentes protectores que favorecen la película y el sellado permeable) y cera de candelilla (mayor retención de agua) favorecen la reestructuración de la capa interna y permiten un tratamiento eficaz y consecuentemente una mayor resistencia y durabilidad del Alisar el cabello. Blue-Gold-Prämie enthält konzentrierte Formeln, die eine höhere Leistung für eine schnelle und effiziente Umsetzung bieten, ohne die Haarfaser zu verblassen. Seine Wirkung nutzt die Technologie der Taninoplastik, die ein Proteinnetzwerk innerhalb des interzellulären Zementkortex bildet, das bei Aktivierung durch die Temperatur der Platte das gewünschte Format liefert und für glatteres, natürliches und glänzendes Haar sorgt. Produkt 100% Original aus Brasilien. Bewegliche Haarglättung, Volle Absorption dank Cation Magnetic Control-Technologie.
Quality Products at Lowest Prices. Lowest Prices for Good Products.
BITTE BEACHTEN SIE, DASS bei allen Artikeln in dieser Liste es sich um Flaschen handelt, die mit einfachen Plastiketiketten versehen sind und aus den Originalflaschen dekantiert wurden. DIE LITERFLASCHEN SIND NICHT INBEGRIFFEN.
Ideal ist die Verwendung einer größeren Menge Dilatationsshampoo, um den Wirkstoff besser durchdringen zu können. Für natürliches Haar dreimal waschen. Tipps: Für extrem widerstandsfähiges Haar: Trockenwäsche - Tragen Sie den Step 1-Dilatator mit einem Pinsel über die Wurzel auf das trockene Haar auf. Sanft auf Länge einmassieren und 5 Minuten stehen lassen. Dann gründlich ausspülen und bei Bedarf noch zwei oder drei Mal waschen. Für gefärbtes und verfärbtes Haar: Wir empfehlen, es nur zweimal mit dem Dilatator der Stufe 1 zu waschen. Es ist nicht notwendig, die Pausenzeit zu verlassen.
Reiben Sie die Kopfhaut nicht zu stark, um ein Nachglätten des Öls zu vermeiden. Überprüfen Sie die Elastizität der Drähte: Machen Sie den Elastizitätstest: Wenn Sie bei der ersten Anwendung des Step 1 Dilatators feststellen, dass das Haar elastisch und empfindlich ist, tragen Sie die -Maske auf, um den pH-Wert der Faser zu stabilisieren, damit sie wirken kann 10 Minuten. Spülen Sie dann die Maske ab und waschen Sie sie noch einmal mit dem Dilatator. SCHRITT 2 - WICHTIG VOR DER VERWENDUNG: Führen Sie den Allergietest durch. Führen Sie den universellen Allergietest durch, indem Sie eine kleine Menge auf den Unterarm und den Nacken auftragen und warten Sie 10 Minutenzeit, wenn das Ergebnis positiv ist, die Verwendung einstellen.
Schütteln Sie das Produkt gut. Trocknen Sie 50% der Fäden mit einem Trockner und lassen Sie sie noch feucht. Teilen Sie die Haare in zwei Hälften oder wie Sie möchten. In mittelgroße Locken auftrennen und mit Pinsel und feinem Kamm auftragen. Legen Sie eine große Menge an der Wurzel der Drähte ab und berühren Sie die Kopfhaut.
Dann mit feinem Kammzug für Länge und Spitze alle Drähte gründlich dämpfen. Brazilian Hair Products was established in 2011 and we are located in London, United Kingdom. As one of the leading online hair care, hair products beauty products distributor and retailer across the UK and Europe, we provide a wide range of hair extensions products and over 40 successful beauty and hair care products. Eternity Liss is the only company that owns the Original Brazilian Keratin Treatment in the World. The powerful formula of the reducer is designed with a special technology which provides high moisturizing and extraordinary softness.
The innovation your hair deserves. In 2013, Eternity Liss recently changed its visual identity, which is now more modern and attractive. And a new visual identity was created to speak directly with hair stylists worldwide. In an easy and intelligent way. Providing information clearly and improving technical training to all professionals.
Now Inoar is completing 9 years and its history involves millions of satisfied professional hair stylists, women that changed their looks and their lives completely, hundreds of people that improved their standards of hair beauty. Brazilianhairproductsonline nowaday is an innovative company, applying a unique market vision to deliver innovative, safe and effective hair products. Brazilianhairproductsonline has pioneered the Original Moroccan Brush products and many other special product lines for Hair Treatment, Brush and Hair Straightening, Brazilianhairproductsonline also includes a hair Finishing Line, Hair Maintenance Kit, and additional products that are focused on the final user, such as Shampoo, Conditioner, Leave-in and Mask. Brazilianhairproductsonline cares about our world, our consumers and our dedicated hair professionals. Our product development professionals are continually developing high-end professional use hair products to reduce the time spent by the professional while maximizing the consumer results.
In recent months we have started to meet the growing needs of our customer's base, by supplying in addition Hair extensions and increasing hair care range. We are always happy to help. To all of you, from all of us at Brazilian Hair Products Online - Thank you and Happy shopping!
We want you to love your brazilian hair item. Also Please attached three pictures of the product in differents angles where I can see that the product hasn't been opened and also another of how you received the parcel and in what condition. Item must be in its' original packaging and in perfect, unused condition. If you have receive a product that has leaked or has a damaged we expecting you to report it sort after you receive it. The supply pictures of the product as you received and focus on the damaged or leaked part that you be helpful to determine what the error was and how can we resolve it as soon as possible.
We don't accept return over used products under any circumstance. Please make sure you understand the instruction clearly before you start the application process. The allows your package to get its destination quicker and safe. If you package has been send to a local depot to be collect it by you but after days you never collect it the package will be send back to us. Get in touch with us.
The item "SALVATORE PREMIUM HAARSTRAIGHTENER 2L (Shampoo und Keratin)" is in sale since Saturday, December 15, 2018. This item is in the category "Beauty & Gesundheit\Haarpflege & Haarstyling\Frisierprodukte". The seller is "brazilianhairproducts" and is located in Valencia, Comunidad Valenciana. This item can be shipped worldwide.
Haartyp: Blonde Haar
Marke: SALVATORE
Styling Effekt: Farbschutz
Geschlecht: Unisex
Altersempfehlung: Alle Altersgruppen
Maßeinheit: L
Produktart: Set/Kit
Modifizierter Artikel: Nein
Herstellungsland und -region: Brasilien
Formulierung: Creme