High Liss Blond 22.88/fl oz/650ml by Truss Professional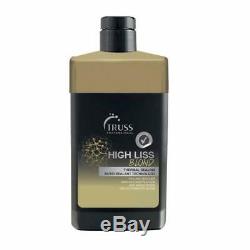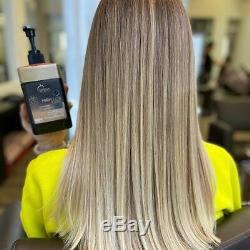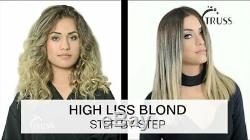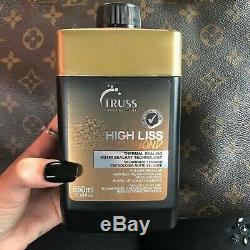 For use on natural or processed blond hair (this will help neutralize warm tones). Provides the hair with an intense treatment, delivering spectacular results from the first application and even better results with future applications leaving the hair recovered with the cuticles sealed. Is Formaldehyde free; Is Compatible with all other chemical treatments; Dermatologically Tested; Releases no fumes in the air; No irritation in the eyes or throat; No waiting time for first wash; Lasts 8 to 10 weeks (use 2 weeks before or after coloring services); This version was specially developed for blond, bleached and colored hair, formulated with a blend of violet pigments which neutralizes warm tones leaving hair more vibrant and platinum. Contains a worldwide exclusive raw ingredient, combination of. Due to its Nano technologic size, it easily penetrates into the hair cortex. The sulfur atoms present in the hair structure will form the disulfide bonds, and when in contact with.
It promotes a larger spacing between the sulfur bonds, releasing water for extra moisture and. This is due to the stretching of the disulfide bonds, as well as the neutralization of negative charges on the surface of the hair fiber. Nourishing sealing technology derived from biocompatible Amino Acids and Acid Nano-Protein that allows progressive change in the hair structure.
It restores the nutrition, hydration, shine and natural movement. Controls volume and reduces frizz. Act in the cuticles replenishing moisture and elasticity to dehydrated hair. Conditioning agent formed by Amino Acids and Silicones.
Promotes heat protection, provides a better slide of the flat iron, offers volume and frizz reduction, intense shine and softness without oilness. Promotes curls definition and volume reduction in a curly hair, while leaving hair soft and manageable, without cumulative effect. Micropartículas que se depositam uniformemente sobre o fio de cabelo, com alto teor de cargas amínicas (positivas), formam filme de proteção, promovendo redução de frizz, proteção da cor, brilho interno, toque sedoso e condicionamento intenso. Conditioning agent that provides strength, excellent detangling action, frizz reduction, softness and superior shine. Improves compatibility and minimizes cuticle damage.
Protects hair from oxidative damage, adding strength and elasticity. Regenerates the Lipid layer and protects hairs natural Keratin. Minimizes fading of colored hair. Aid in the replacement of water from hair strands. They provide greater malleability, softness, hydration and shine.
Restores Amino Acids, Proteins and Lipids. Provides softness and reduces frizz.
Originally from Amazonian palm tree nuts, it improves detangling, reduces frizz and fly-aways. Restores the natural hydro lipid layers, provides shine, softness, hydration and protection. Acts to neutralize warm tones in blonde and bleached hair, and yellow tones in gray hair. This will open the cuticle and prepare the hair to receive the treatment you may also choose to use. If hair is fragile or damaged. With a brush, starting from the nape of the neck for a more natural look. Apply evenly from roots to ends and massage gently. Cover hair with a plastic cap to keep the moisture in. Processing time: while using a hooded dryer, process hair according to hair texture and density. For heat and color protection, apply. As product has been completely rinsed, you will notice how easy it will be to blow dry your client's hair. Evenly and flat iron taking thin sections, sliding slowly and repeating movement until hair is frizz-free Tip: If hair is damaged or sensitive, you can spray more. Thin Damaged hair 20 Coarse and Resistant hair 30.
Coarse and Resistant hair 420°F. WE ALSO HAVE HIGH LISS REGULAR, PLEASE ASK US.
WE HAVE ALL THEIR HAIR LINE PRODUCT'S. The item "High Liss Blond 22.88/fl oz/650ml by Truss Professional" is in sale since Thursday, April 23, 2020. This item is in the category "Health & Beauty\Hair Care & Styling\Styling Products". The seller is "johnsantosusa" and is located in Atlanta, Georgia. This item can be shipped worldwide.
Brand: TRUSS PROFESSIONAL
Type: Leave In