5xToppikHairFattener100ml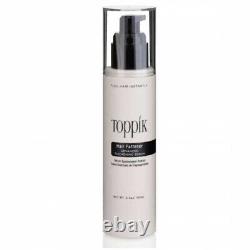 Toppik Hair Fattener 100 ml. Toppik Hair Fattener Thickening Formula by Spencer Forrest is an innovative system for delivering nutrients to the inside of the hair. As it penetrates inside, it fills it with a blend of keratin, a natural protein. Once the formula is absorbed, the hair shaft closes up, locking in the filler.
Toppik Hair Thickening Formula is enriched with the highest concentration of pure keratin of all Spencer Forrest hair care products. It is so effective that only a small amount of hair building fiber is needed to achieve a satisfying result. By using Toppik Hair Thickener daily, you will see a steady increase in hair thickness. The special rinse-to-clean formula prevents unpleasant buildup of product residue. Your hair will be clean, nice to the touch, shiny and more manageable.
They are safe to use along with current hair loss and hair loss treatments such as PROCAPIL'HAIR and HAIR FORCE ONE. The product is so effective that by using it, the hair becomes so thickened that it is sometimes not necessary to use microfibers at all, and in most cases it takes much less to thicken the hair. Shampoo your hair and leave it slightly damp. Apply a small amount of Toppik Fattener to your hands and massage into your hair.
The hair should yield completely and be able to be styled as desired. Blow dry your hair with a hair dryer. You will see that your hair is much thicker than before.