Perfecting Self Grooming Tri-Fold Vanity 3-Way Mirror Any Room With Beveled Edge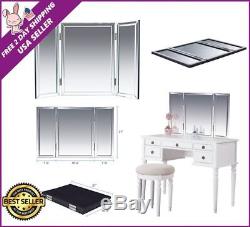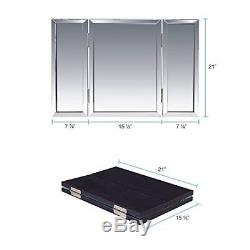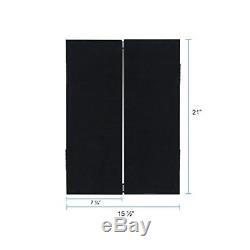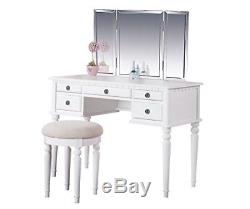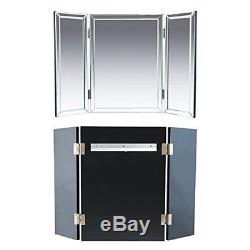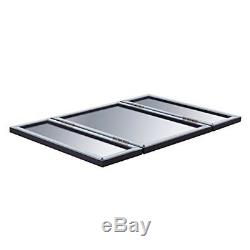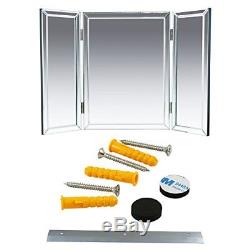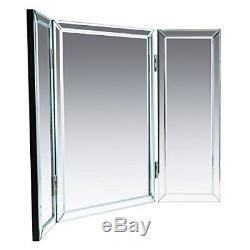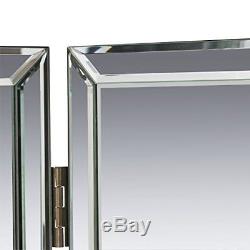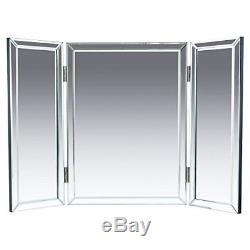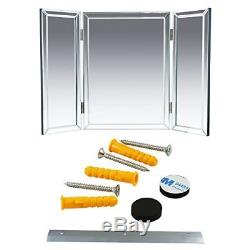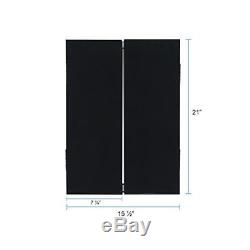 Perfecting Self Grooming Tri-old Vanity 3-Way Mirror Any Room With Beveled Edges. Anyone who has ever had to lean over the bathroom sink in order to get a clear view of their reflection in the mirror while they apply makeup or wash their face will attest.
As will those who have held a hand mirror behind their head, just to get a glimpse of the back of their head while they struggled to cut their hair or shave their neckline. Tri-fold vanity mirrors are a godsend for home grooming. When you are able to position the side mirror panels to any angle you require, you are given the gift of a literal 360-degree view. The advantage that this gives you simply cannot be overstated. But combine this incredible functionality with a top flight heavy-duty construction, and an elegant design that will stand out and receive praise in any setting, you know you have a really good thing going. Our tri-fold, chrome-hinged vanity mirror measures in at 31" (L) x 1" (W) x 21 (H). It's modestly sized to fit seamlessly in any room of any home -- from large Colonial-homes to single-room studio apartments.
Still, you're given the luxury of folding the clean-lined beveled glass framed side panels out a bit for countertop display. Note: Our mirror weighs in at nearly 20 lbs.
So please be sure to mount it to a wall containing a stud to prevent collapsing or injury. A timeless staple in any bedroom or bathroom, three-way vanity mirrors are a unicorn of , craftsmanship, and functionality. Visually enlarging and brightening the bedroom while providing incredible functional advantages to your grooming methods, our tri-fold vanity mirror is a true thing of beauty that will serve as a true showpiece to any room of the home for years to come. PERFECT FOR ANY ROOM: Take a giant leap up from ordinary three-paneled mirrors that often leave you guessing when it comes to grooming. Combining the classic aesthetic of your mother's vanity with modern quality construction that is built to last, this beautiful three-paneled folding mirror is a true show piece for any console table or wall in your bedroom, bathroom, powder room, hallway, and more. DISPLAY IT ON ANY TABLE: With dimensions 31" (L) x 1" (W) x 21 (H) sized to accommodate living spaces both big and small. The clean-lined edges of the folding outer panels provide a solid base that will prevent the mirror from shifting or falling when placed on a countertop. MAKES GROOMING EASIER THAN EVER: Three-way vanity mirrors are a genuine lifesaver when it comes to applying makeup, shaving your face, or cutting your hair. Angling the side panel mirrors gives you a 360-degree view that eliminates blind spots, guesswork, and frustration that comes with tending to the back of your head with scissors or razors. SIDE PANELS FOLD COMPLETELY FLAT: All three of the mirror panels are bordered an inch-thick beveled glass plating.
The chrome hinges allow the doors to fold flat when mounted. Properly attach the included brackets and hardware to the wooden backing on the center panel and mount to a wall that can safely hold over 20 lbs. Our stock all ships from our US-Based Warehouses. Please ensure that the address is verified and correct during checkout.
We are here to give you quality products, competitive pricing and amazing service in order to make sure you get the best deal online, Thank you for your business and the opportunity to serve you. The item "Perfecting Self Grooming Tri-Fold Vanity 3-Way Mirror Any Room With Beveled Edge" is in sale since Friday, February 16, 2018. This item is in the category "Health & Beauty\Hair Care & Styling\Styling Products". The seller is "saletrix" and is located in Phoenix, Arizona. This item can be shipped to United States.
Handlling Time: Up To 2 Business Days (Usually Same Day)
Tax: Tax Free
Use: Easy To Use
Shipping: Free Shipping
Customer Service: Professional Sevice, We Will Solve Any Problem
Return: 60 Day Money-Back Guaranteed
Perfect for any Room: Showpiece for any console table or wall in any room
360-Degree view: Eliminates blind spots, guesswork, and frustration
Display it on any table w/ dimensions (31 (l) x 1 (w) x 21 (h): To accommodate living spaces both big and small
Side panels fold completely flat / All 3 of the mirror panels: Are bordered by an inch-thick beveled glass plating
The clean-lined edges of the folding outer panels: Provide a solid base that will prevent the mirror from falling
Shipping Weight:: 15.6 Pounds
Makes grooming easier with 3 way vanity mirrors: Are a genuine lifesaver when it comes to applying makeup
MPN: Tri3
Model: Tri3
Brand: Houseables